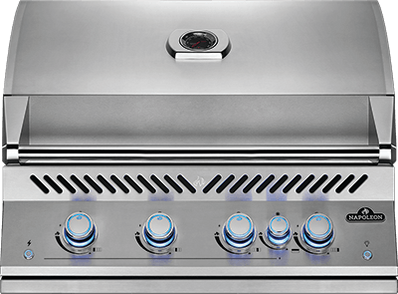 The Built-In 700 Series 32-inch Gas Grill with Rear Infrared Burner provides the high-quality grilling you have come to expect from Napoleon's gas barbecues, built seamlessly into your ideal outdoor kitchen. The marine-grade stainless construction ensures stylish longevity and unparalleled performance. Thick, 9-mm stainless steel cooking grids are virtually maintenance-free and provide iconic WAVE sear marks. Precise temperature control and the ACCU-PROBE temperature gauge ensure that you're searing, smoking, roasting, rotisserizing, and baking with ease. The JETFIRE ignition system lights burners quickly with a jet of flame. Enjoy ambiance and safety, the NIGHTLIGHT control knobs glow a glorious blue changing to red when burners are in use. The Built-In 700 Series 32-inch Gas Grill has been designed specifically for ease of installation with integrated trim and longer electrical wiring for no design and functionality restrictions on install.
SINGLE RANGE BURNER
ICONIC SEAR MARKS
NEVER BE LEFT IN THE DARK
Infrared heat from the rotisserie burner is perfect for high heat searing and slow spit roasting.
Thick 9.5mm iconic WAVE shape provides even heat transfer and prevents smaller foods from falling into the grill.
The staggered set up creates even heat distribution and protects the burners.
Never accidentally leave the gas on and know which burners are lit for multi-zone grilling.
Never be without your favorite grilling accessory, the integrated rotisserie kit storage keeps everything close by.