Bathroom Trends and Why They're Here to Stay
Posted by TriMatrix Construction on 7 February 2018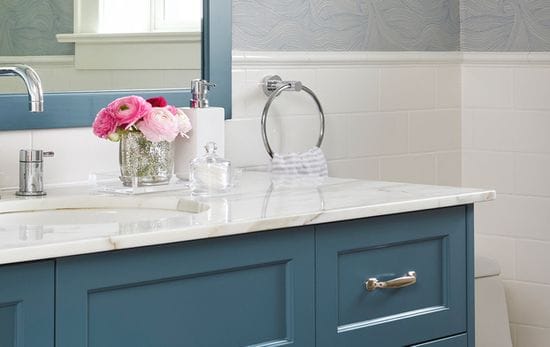 Wood Vanities
More designers are including a stand alone wood vanity in a crisp bathroom design to add a warm and welcoming ambience to the space.The natural veins and textures of the wood add more character to typically simple crisp bathroom designs. The bathroom is a space that should look clean and crisp, but also feel welcoming and relaxing, adding wood to the design marries the two desired features.
Quartz Countertops
Everyone wants their bathroom to look clean, fresh, and impeccable all the time. Adding quartz countertops to your bathroom vanity marries style and strength. Unlike other natural stone countertop materials, quartz is an engineered stone meaning it is more durable to the everyday hustle and bustle. Being an engineered stone, quartz also provides the added benefit of being non-porous and mostly stain resistant, giving you more peace of mind that your bathroom is clean and not a breeding ground for bacteria.
Stone Floor Tiles
Using porcelain and stone floor tiles is a growing trend in bathroom designs. Stone floor tiles add a great sense of texture to the space. The bathroom is no longer the forgotten space in the home that simply needs to look clean when guests come over. Homeowners take pride in their gorgeous bathrooms and powder rooms, adding porcelain or other stole tiles to a bathroom creates a classic and mature space. Additionally it adds a sense of luxury without breaking the bank.
Brushed Nickel Faucets
Adding warmth to bathrooms has been the goal over the years, we want features to make each bathroom feel like a welcoming space for yourself and guests. Using brushed nickel faucets guarantees a warm, classic and polished look to any bathroom. Further, it is a versatile material that successfully minimizes water spotting, which means less upkeep. In being so classic and versatile, it would give you the flexibility of changing your other you were to want to change your other bathroom fixtures. Brushed nickel works with any palette and we encourage that you mix it with other metals for a super luxe look.
LEDs
Lighting is essential for any and every space. A strong growing trend is using LED lighting in bathrooms. Adding LEDs to the bathroom creates the illusion of bright and glowing lights through the space making it more open and inviting. Aside from aiding in achieving a crisp and fresh looking bathroom, LED lights are eco-friendly. LEDs are more sustainable than other typical lights, they use less energy and last longer, making your wallet happy and giving you a guilt free conscience.

Author:
TriMatrix Construction
About: With over 30 years experience in the Construction Industry, we are builders who understand every aspect of the construction process. From planning and design, to delivering the fulfillment of your dream home, we are with you every step of the way.
Connect via:
Twitter
LinkedIn
Post comment