Here's Why You Should Plan Your Backyard Paradise Now for 2021
Posted by TriMatrix Construction on 3 September 2020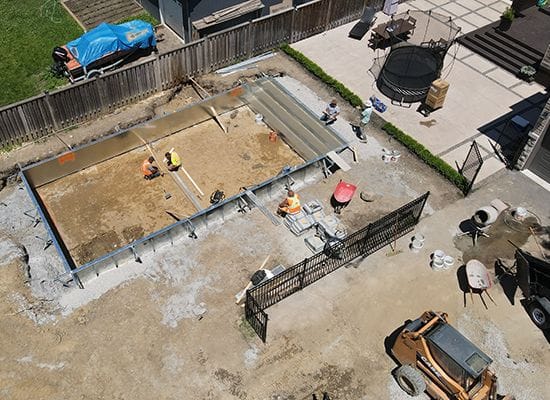 Summer 2020 may not have been everything we wanted it to be, but that should not prevent planning for 2021! It is time to wipe the slate clean and look forward to great experiences that lie ahead. This year, it is no secret that most of our days were spent indoors dreaming of travel. Instead, why not make your home your new paradise?
TriMatrix is a full-service design, build and project management construction company in the GTA. Our team specializes in crafting one-of-a-kind custom homes, renovations and new additions that will leave an impression. Consider revamping your outdoor space into a 'staycation' hotspot that everyone can enjoy. Bring style and elegance from inside your home to its exterior. At TriMatrix, we believe comfort should not stop at the door.
Whether you are interested in installing an outdoor kitchen, fireplace, refrigerator, outdoor speakers, or concrete seating areas, we have your covered. Utilize your backyard to the fullest and create a space that is functional and beautiful. Entertaining guests is a breeze knowing your backyard has all the amenities it needs for a fun day or night spent at home.
TriMatix can transform your backyard into an outdoor oasis. Pools are becoming a popular addition, as it creates a luxurious ambiance, and anyone can enjoy it. If you are thinking of installing a pool, the sooner the better, and here is why:
It requires a lot of time to decide on style, shape, and size. There may be a lot of back and forth before everything is finalized.
You do not want to start a demolition project in the middle of winter. Not only does this prolong the process but there is a greater chance of attracting bacteria.
It increases value. For some, the backyard is a big selling point when buying a new home.
We treat your home as if it is our own. Take advantage of the few months we have summer with a newly renovated backyard. As we have learned, a lot can happen in one year, so take the leap of faith and make a change now.
To learn more, call us today at 905-856-5156 or follow us on Instagram at @trimatrixconstruction

Author:
TriMatrix Construction
About: With over 30 years experience in the Construction Industry, we are builders who understand every aspect of the construction process. From planning and design, to delivering the fulfillment of your dream home, we are with you every step of the way.
Connect via:
Twitter
LinkedIn
Post comment