Rebecca Hay Designs | Behind the Design : Powder Room
Posted by Rebecca Hay on 19 January 2018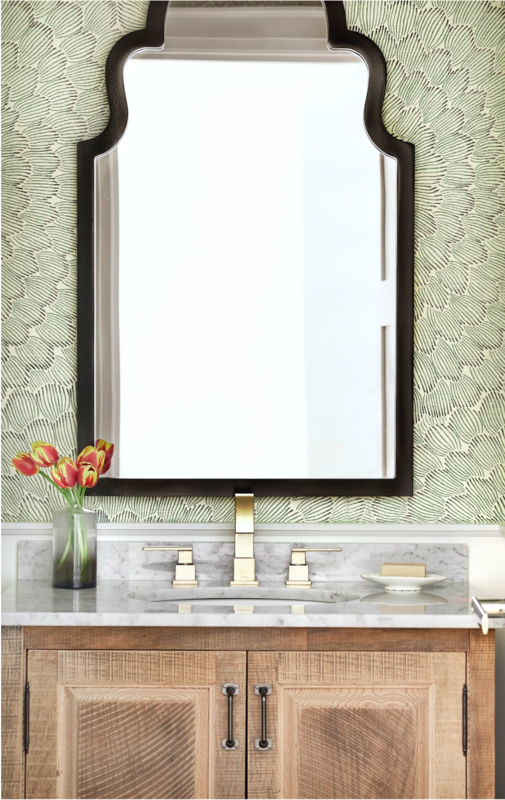 When our clients first approached us to renovate their Powder Room, it was quite obvious that their existing space was in dire need of a makeover. The space was tired-looking, lacked personality & the layout did not work.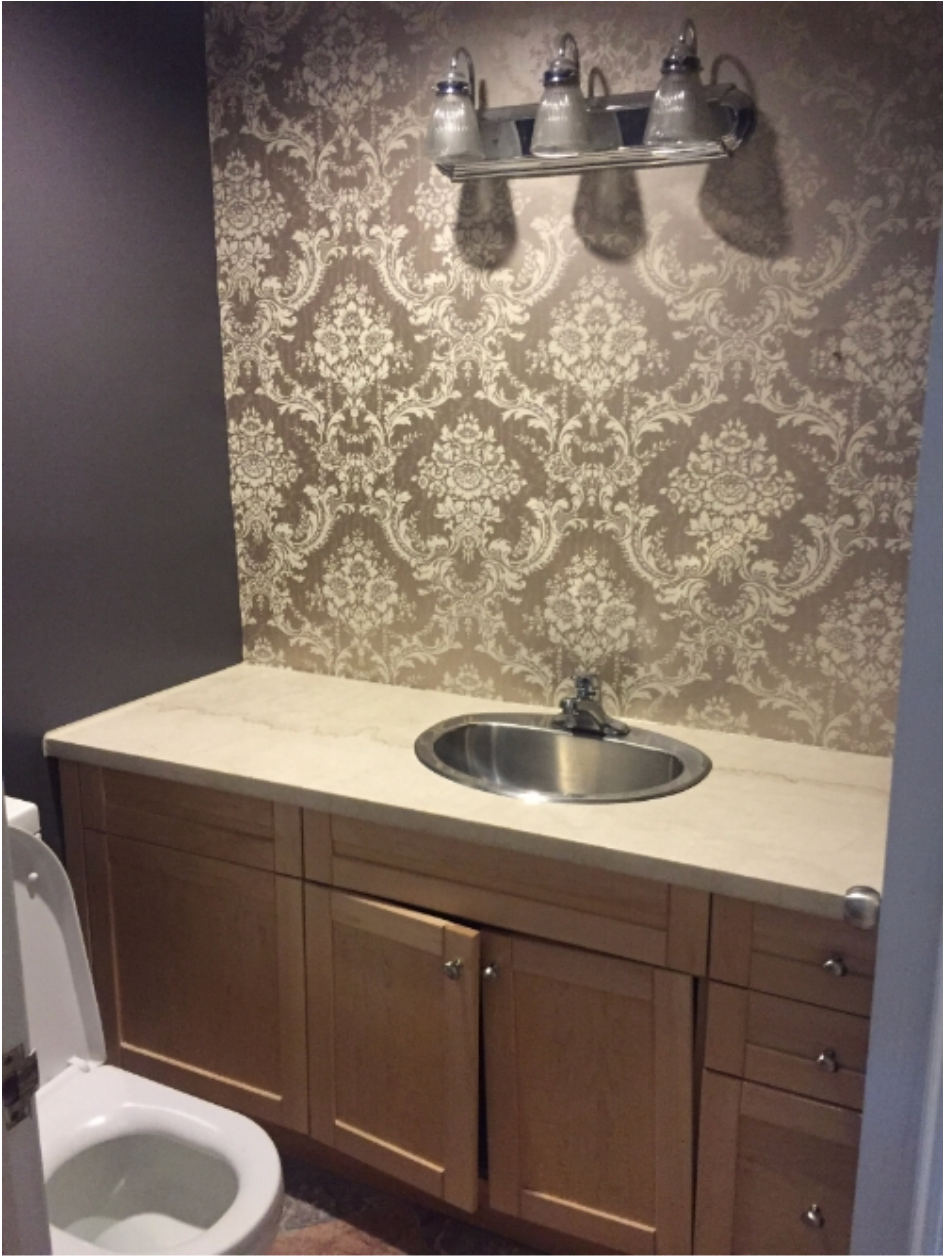 BEFORE: This small main floor powder room was outdated with an oversized vanity which took up the entire back wall. The toilet was in the wrong location and too close to the wall and the wallpaper, lighting & flooring were dated and needed a modern refresh.
The client wanted the space to to be a pretty jewel that flowed with the sophisticated country vibe throughout the rest of their house.
I always want a powder room to make a statement. It's usually one of the smaller rooms in a home and so any amount of pattern or colour can be used without overwhelming. I love to use wallpaper for that reason. It adds a fun sophisticated vibe and turns an ordinary room into a little jewel box.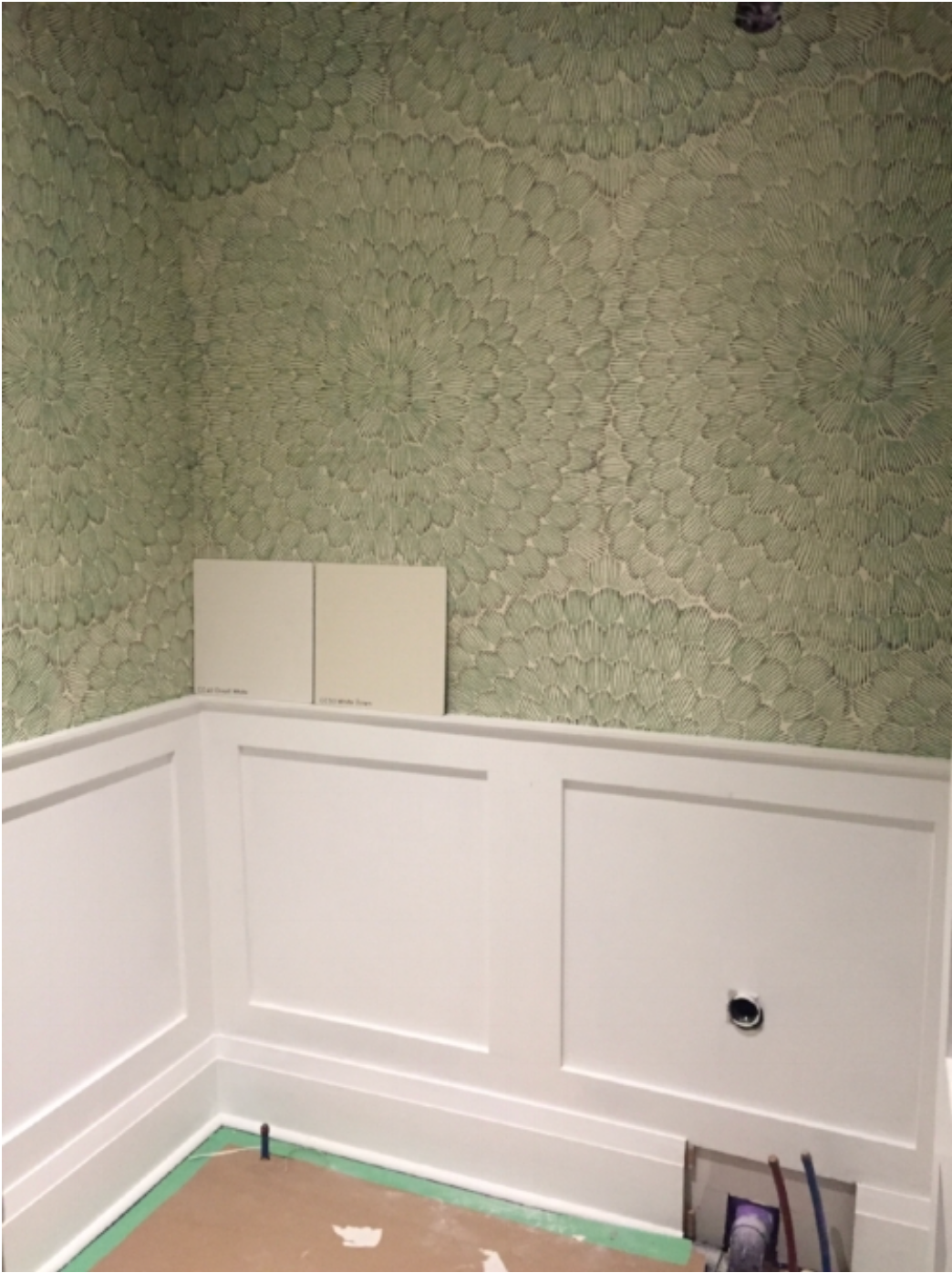 This wallpaper was our starting point. I fell in love with the grasscloth texture and emerald green pop of colour. The wainscotting was added to help keep the colour in check so that it wasn't too overwhelming (or expensive!). The warm wood vanity and gold accents are balanced by the dark floors and mirror. I love CONTRAST and we found the perfect balance here/
For the floor we opted for a simple dark slate tile and laid it in a herringbone pattern to add some interest. Accents of gold add sparkle and sophistication.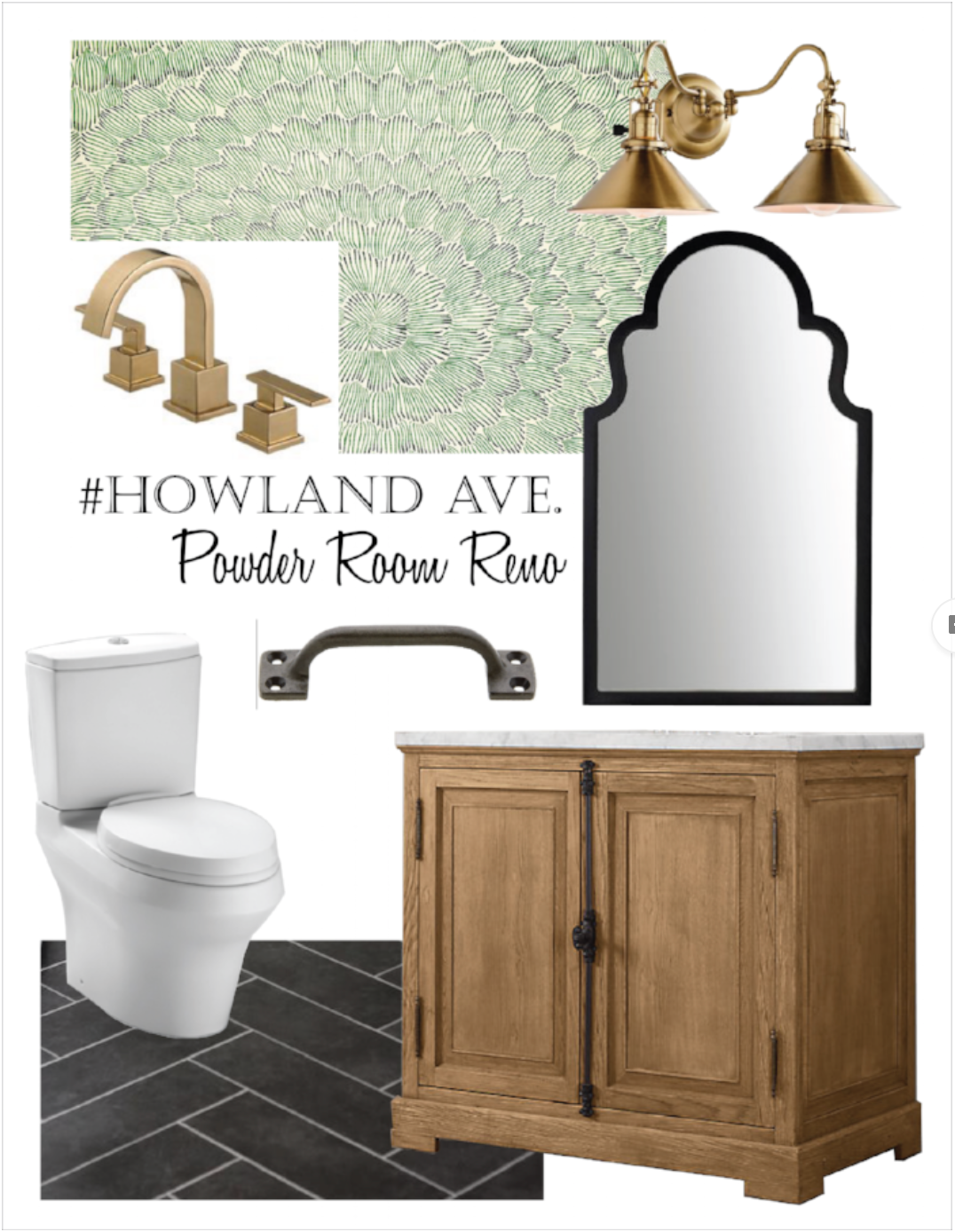 PLANNING: Once a plan is set in place, we create a mood board with all sourced items so the client can understand our overall design vision. This is helpful for those who cannot always visualize the space prior to demo!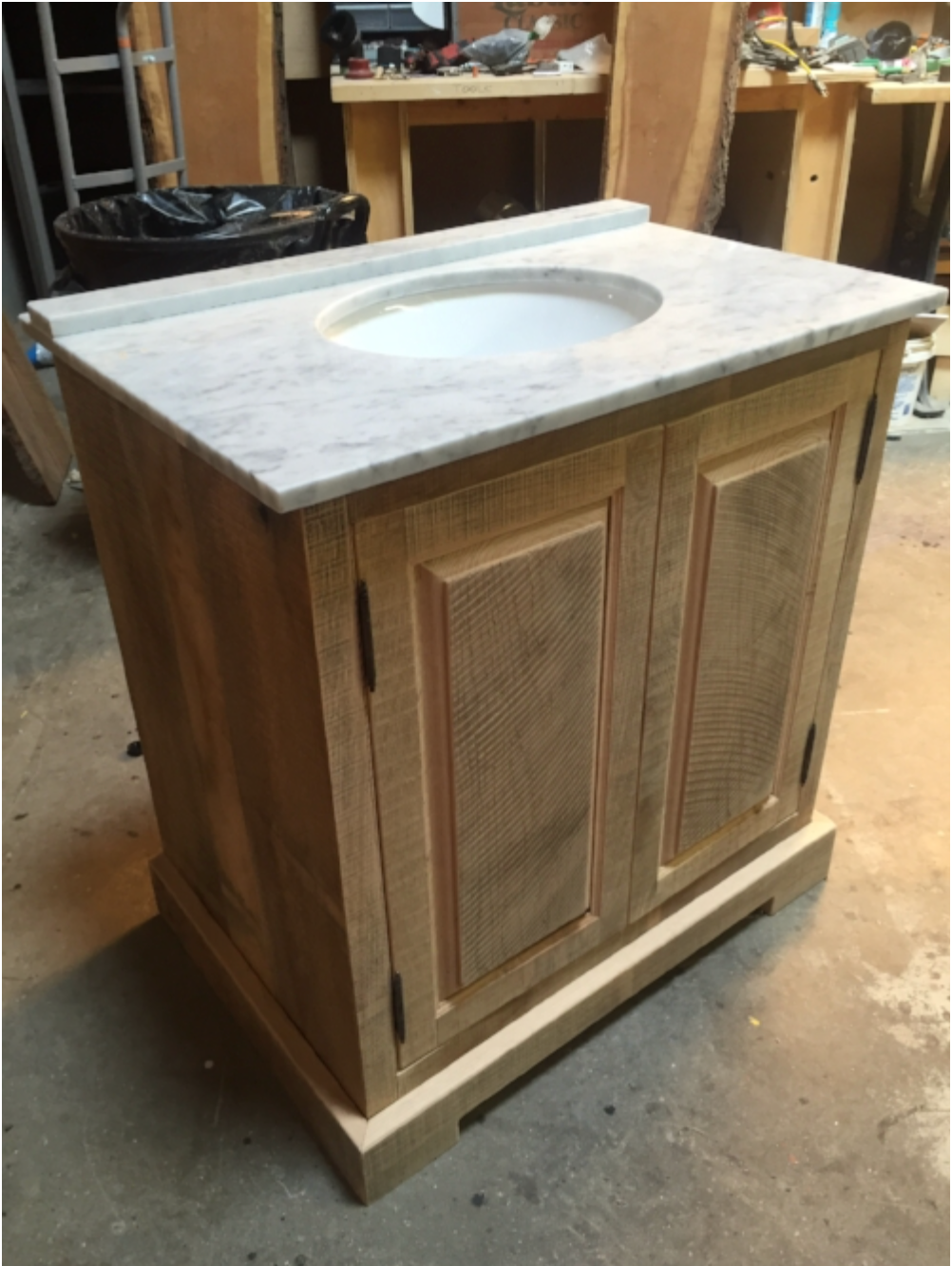 We designed the custom vanity to look old, and in a farmhouse style.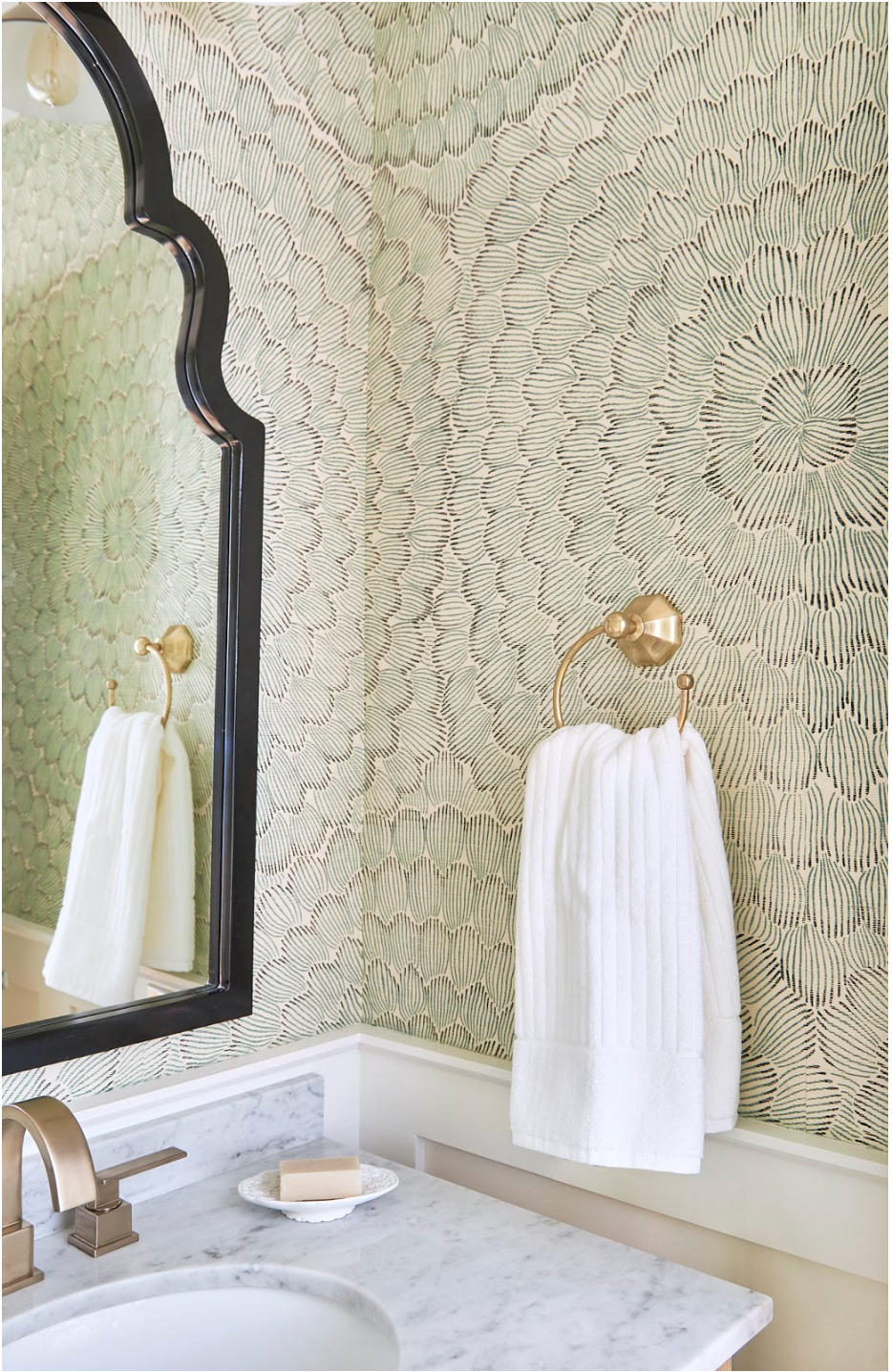 The Powder Room is now a brilliant space which functions more efficiently for this growing family. The herringbone slate floors add interest, while the wallpaper provided some much-needed personality. My client says it is now her favourite room in the house. She loves the wallpaper the most but overall how sophisticated and purposeful the room feels while still feeling warm and homey.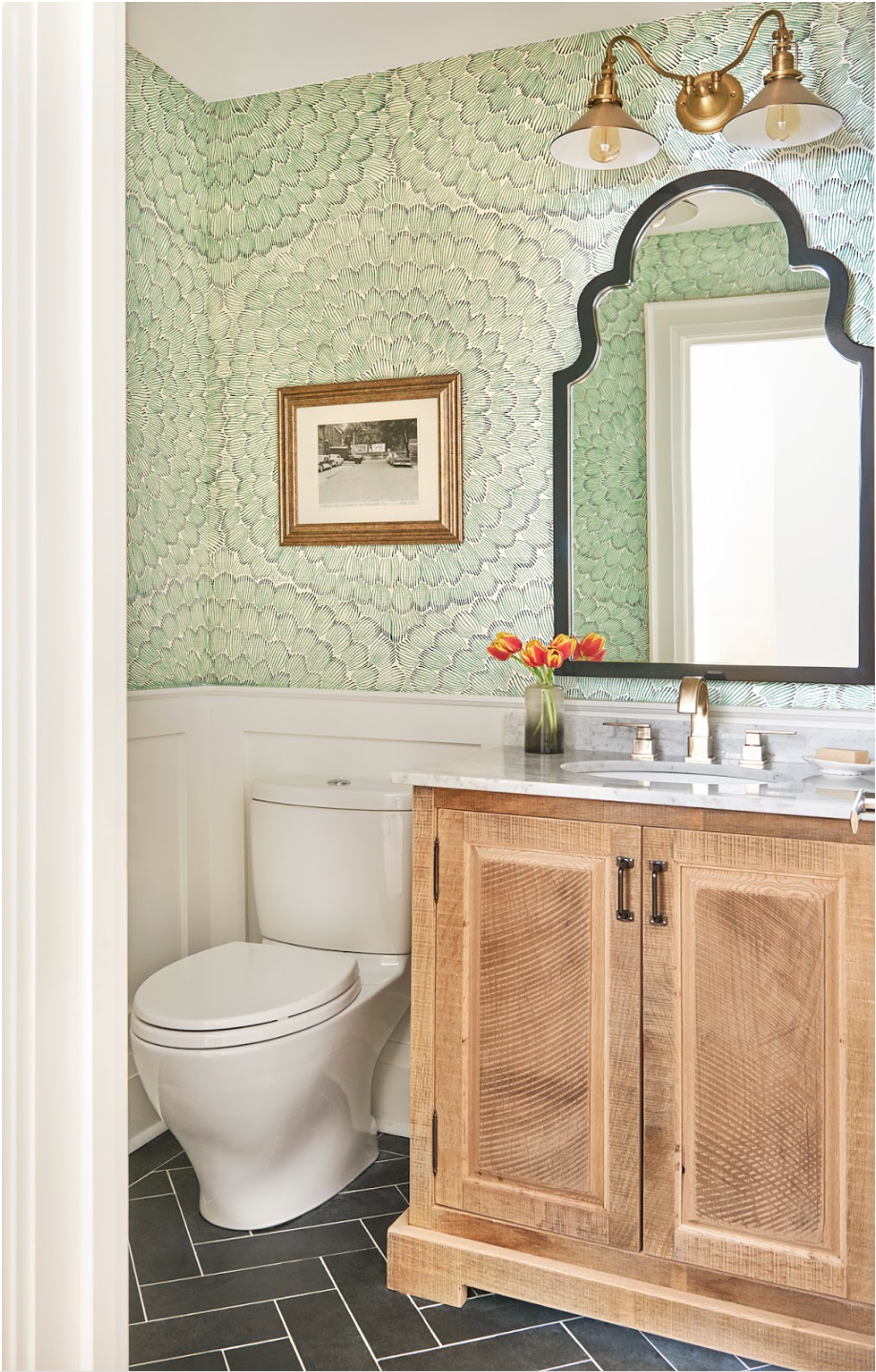 Tell us, what was your favourite element in this space? Were you surprised by the transformation? Comment below & let us know your thoughts!
---
Rebecca Hay Designs has a diverse portfolio ranging from luxurious private residences to large scale commercial projects. With a focus on quality and craftsmanship, Rebecca and her team design beautiful, functional spaces creating a signature blend of traditional and contemporary design. Visit their website to view more projects or read additional blogs by RHD.

Author:
Rebecca Hay
About: Small town born and big city raised, Rebecca's passion for design started at an early age. Having lived in 5 different homes before the age of 12, Rebecca continually re-imagined her own bedrooms every time. She also watched as her mother decorated each home with love; often with the help of her mother's famously talented cousin, Robert Dirstein. Their home was always inviting and warm, full of family and friends. Rebecca shares her mother's passion for creating beautiful spaces to share, and prides herself of turning a house into a home. Rebecca has over a decade of experience in design. After graduating with a Bachelor of Arts from McGill University she lived and taught in the beautiful south of Spain. She returned to Canada where she completed her design training in Vancouver. Upon returning to Toronto, Rebecca had the privilege to work for several years with Stephen Taylor, one of Toronto's top high-end designers. She has also worked in the engaging and high-paced world of television, holding the position of Show Segment Designer on HGTV's "Income Property", and "The Property Brothers". Her design aesthetic is approachable and classic while creating homes that are unique and fitting to their owners.
Post comment