Renovating Small Bathrooms
Posted by TriMatrix Construction on 1 November 2017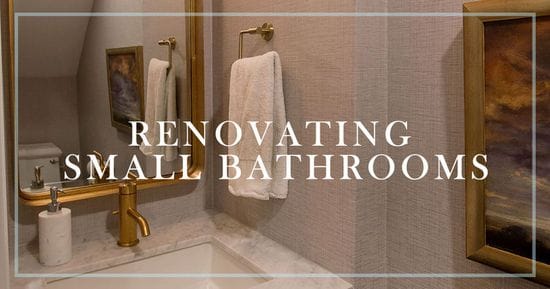 Renovating small bathrooms can seem like a difficult task to tackle however it allows you to be come a clever problem solver when you have to figure out how to create a storage-friendly and functional space. In a small bathroom every element must be functional, have a purpose and play a part in creating a sanctuary.
Add creative storage
Showcase your towels and linens in open shelving

Use some colourful and textures towels to add warmth and livelihood to your space.
Other shelving ideas:

Floating shelving
Storage ladders
Stacked wooden crates
Functional
Every object must have a purpose and not be clutter

Avoid knick-knacks or objects without purpose
Minimize counter space by storing personal products
Store items such as cotton swabs and balls in glass jars for additional appeal
Pick a Palette
Choose a calming, soothing and neutral colour for your bathroom walls

Painting a wall an accent colour takes time, and a darker colour risks making the room feel smaller
Base the theme of your bathroom around your neutral colour
Use textures and patterns to create depth in a small bathroom
Pop in with Colour
Neutral doesn't mean boring; use your bathroom rug, curtain and tile to bring in pops of colour.

Add personality and flair with personal items such as a robe and towels.
Paint your mirror frame an accent colour to add contrast and complexity

Author:
TriMatrix Construction
About: With over 30 years experience in the Construction Industry, we are builders who understand every aspect of the construction process. From planning and design, to delivering the fulfillment of your dream home, we are with you every step of the way.
Connect via:
Twitter
LinkedIn
Post comment