Top 6 Questions to Ask Your Contractor
Posted by TriMatrix Construction on 1 February 2018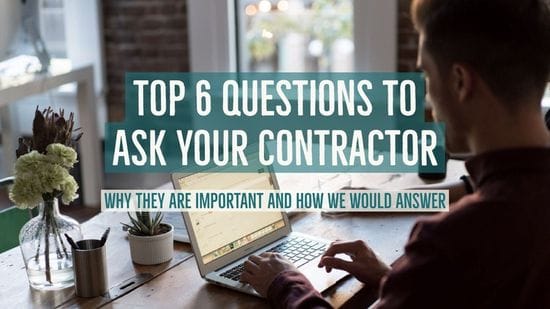 1. How long has your company been in business?
It is important to know how many years a company has been operational because the longer they have been in business the more situations and issues they have encountered and successfully solved. Its nice to give a new company thought and consideration however, you risk having contractors that are not properly prepared or fully equipped to deal with any issues that may arise.
TriMatrix Construction Inc: We have been operational since 2009.
2. Do you have all licenses and insurances required for every project?
Confirming that your contractor has all required licenses and insurances legally issued and up to date is vital before moving forward on any project. You don't want to be waist deep into the project and have a home inspection that concludes with a stop-work order or a fine which will only prolong the entire project and further disrupt your life.
TriMatrix Construction Inc: We are a fully insured company, which means that we carry over $5 million in liability coverage. This insurance declares that you, the client, will never be held liable for any harm or accident that occurs on our job site Our works are all highly trained in regards to health and safety, and we take serious internal measures to make sure that they are doing everything possible to avoid dangerous situations. Our works must be obedient to very strict safety protocols. We are a Toronto and surrounding areas licensed Certified Contractor with Contractor Check. This combination is a very rare designation among our competitors. We carry other designations, and certainly all of the insurance and licensing you would want from a contractor.
3. Will I need permits for my projectand who is responsible for obtaining them?
Depending on the scope and the extensity of your project you may require permits. You wouldn't want to begin a structural renovation without municipal permission and then earn yourself a heavy fine. Your contractor should have the knowledge to know which projects require permits and the best way to go about attaining them. If they do the leg work for you, that is a bonus because attaining permits can be a hassle.
TriMatrix Construction Inc: If you are looking to make major structural changes, such as additions or extensions of an electrical, HVAC or plumbing variety, then you will likely need a permit. If your renovations are mostly decorative or aesthetic in natural, or internal functions such as a new heating system, you will not require a permit. If you have never gone through the process of obtaining a permit, you may find it to be a real headache due to its complexity. Luckily, we're here to help. With the guidance of our experienced contractors, we guarantee that this part of the process will become less stressful and time consuming; in the short-term for the renovation, as well as in the long-term if you ever choose to sell your renovated home.
4. How long does a typical renovation take, and what is a normal work day like?
Every project and renovation is unique and no matter how organized your contractor is, each home is a mystery until the project gets underway. However your contractor should be able to give you an initial estimate so that you can plan how long your day to day life may be disrupted and how long you can expect to have people in and out of your home. Additionally, your contractor should inform you of what a normal work day looks like as to maintain safety in your home. You should know all times people are entering your home throughout the project.
TriMatrix Construction Inc: This is completely dependent on the type of project and project size. A sweeping, full-home renovation generally takes around 4-6 months. A renovation complete with an addition takes 5-7 months, and building a custom home takes just less than a year, beginning with a 1-2 month design process. Minor renovations obviously take less time. Bathrooms usually take 2 weeks, and full basements take 4-6 weeks. If either of these require additions, as well as renovations, we usually project that it will take around 2-4 months to build. Depending on the scope of the project, the design and planning phase can take anywhere from 4 weeks to 8 months Even if this is a time consuming step, it is absolutely worthwhile.
Our work days begin bright early in the morning where the trades arrive at your home with a project manager at 7:30am, and end the day at 4pm with a full daily clean up to avoid further disruption.
5. Will my project have a dedicated project manager and team?
It is important to know if you are being designated a project manager and core team to your project so you can feel safe and secure throughout the process. Knowing the main liaison to the company will give you peace of mind as to who is coming in your home and allow you to contact a valued person if anything goes wrong or a new purchase or design decision is made.
TriMatrix Construction Inc: Every project is given a project manager that will oversee all progress, purchases and sub-trades. At the beginning of the project you will be introduced to your project manager and receive all relevant contact information to ensure your peace of mind. We work with the best subcontractors and suppliers who will always be in contact with the project manager. Our project managers are required to provide you with a daily update with photos of the project and progress through our in-house project management system.
6. Do you have a warranty?
This question is vital! It is important to know if any part of your project has a warranty and for how long. Every project, no matter how big or small, is an investment and you want to ensure that your investment is well covered and will last for years to come.
TriMatrix Construction Inc: Yes, our 12-month warranty is considered to be one of the best in the industry for the client. The warranty covers the labor, as well as the installation of the entirety of your renovation project. The warranty on our finishing materials comes with a warranty that lasts another 1 year-10 years. There have been circumstances in the past where we have performed fixes and amendments on aspects of our projects after the warranty has expired, because it seemed to be the reasonable and honest course of action. Just because a project is complete, does not mean it is necessarily finished. We still take pride in everything that we build.

These are the top 6 questions we believe will make you feel more comfortable to start a renovation in your home and trust the contractor you hired.
---
If you would like to read further questions that you should ask your contractor please visit our page dedicated to FAQs.

Author:
TriMatrix Construction
About: With over 30 years experience in the Construction Industry, we are builders who understand every aspect of the construction process. From planning and design, to delivering the fulfillment of your dream home, we are with you every step of the way.
Connect via:
Twitter
LinkedIn
Post comment