TriMatrix At Canada Blooms 2018
Posted by TriMatrix Construction on 28 February 2018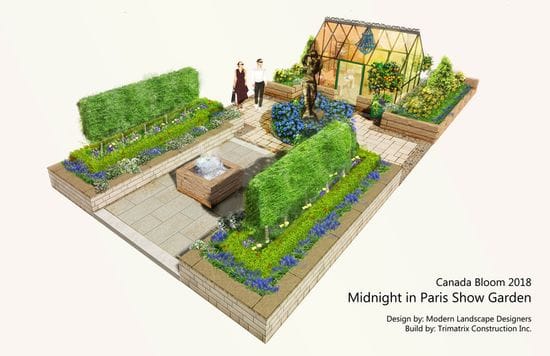 We are proud to have been selected to build the phenomenal show garden designed by Modern Landscape Designers at the 2018 Canada Blooms.
TriMatrix began as a stone company and although we have grown and developed we still remain experts in landscape and outdoor living construction, therefore we are honoured and tremendously excited to help Modern Landscape Designers bring their vision to life.

The show garden was designed by the talented Julie Moore who is the Conceptual Artist and Partner at Modern Landscape Designers. This year's garden is inspired by the film, Midnight in Paris and by Parisian culture.

"The Garden emanates an artistic flair through creative planting, sculpture and innovative greenhouse styling."

In addition to taking part in the construction of his luxurious garden, Albert Conte from TriMatrix will be doing Garden Talks on Wednesday March 14 2018 at 12:00pm. Albert will be speaking about custom construction, and providing tips and tricks on how to have a smooth project from conception to completion.
Please visit the show garden during the National Home show & Canada Blooms from March 9 to March 18 2018.
You can find this masterpiece and a representative at Show Garden G21.

Author:
TriMatrix Construction
About: With over 30 years experience in the Construction Industry, we are builders who understand every aspect of the construction process. From planning and design, to delivering the fulfillment of your dream home, we are with you every step of the way.
Connect via:
Twitter
LinkedIn
Post comment