Understanding Flooring: Which is right for you?
Posted by TriMatrix Construction on 20 November 2017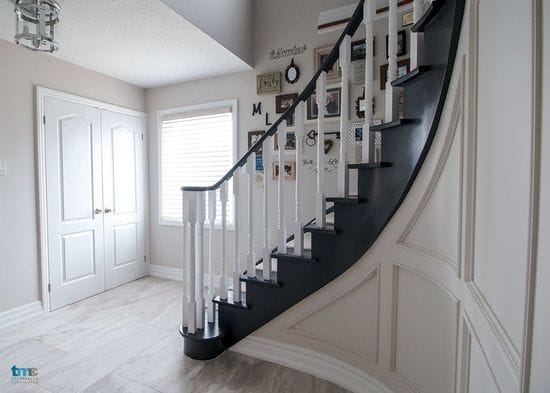 Choosing flooring can be heavily based on your decor and your budget. However, choosing a flooring material should also based on your home and lifestyle. Every flooring material has its pros and cons, and although every construction or renovation project is ruled by the budget, there are certain materials that will be more beneficial for each individual homeowner long term.
Laminate
Laminate is crafted by fusing layered materials together using a lamination process It consists of a layer of melamine resin, a layer of a fiberboard core (usually MDF), and a top decorative layer consisting of a high quality image that mimics wood.
Pros
Durability - Looks like wood without the high cost, maintenance, and fragility.
Inexpensive labour
Scratch and fade resistant
Cons
Susceptible to warping and staining from water damage
Shorter life-span - cheaper grades of laminate may need to be replaced within 10 years
Cannot be refinished - Unlike wood, when you damage laminate it cannot be refinished.
Lower return on investment - Home buyers are looking for beautifully complete homes, having a laminate flooring versus real wood or another type of flooring will lower the value of your home.
Doesn't match natural beauty of wood
Price Range: $2 to $4/sq ft
Wood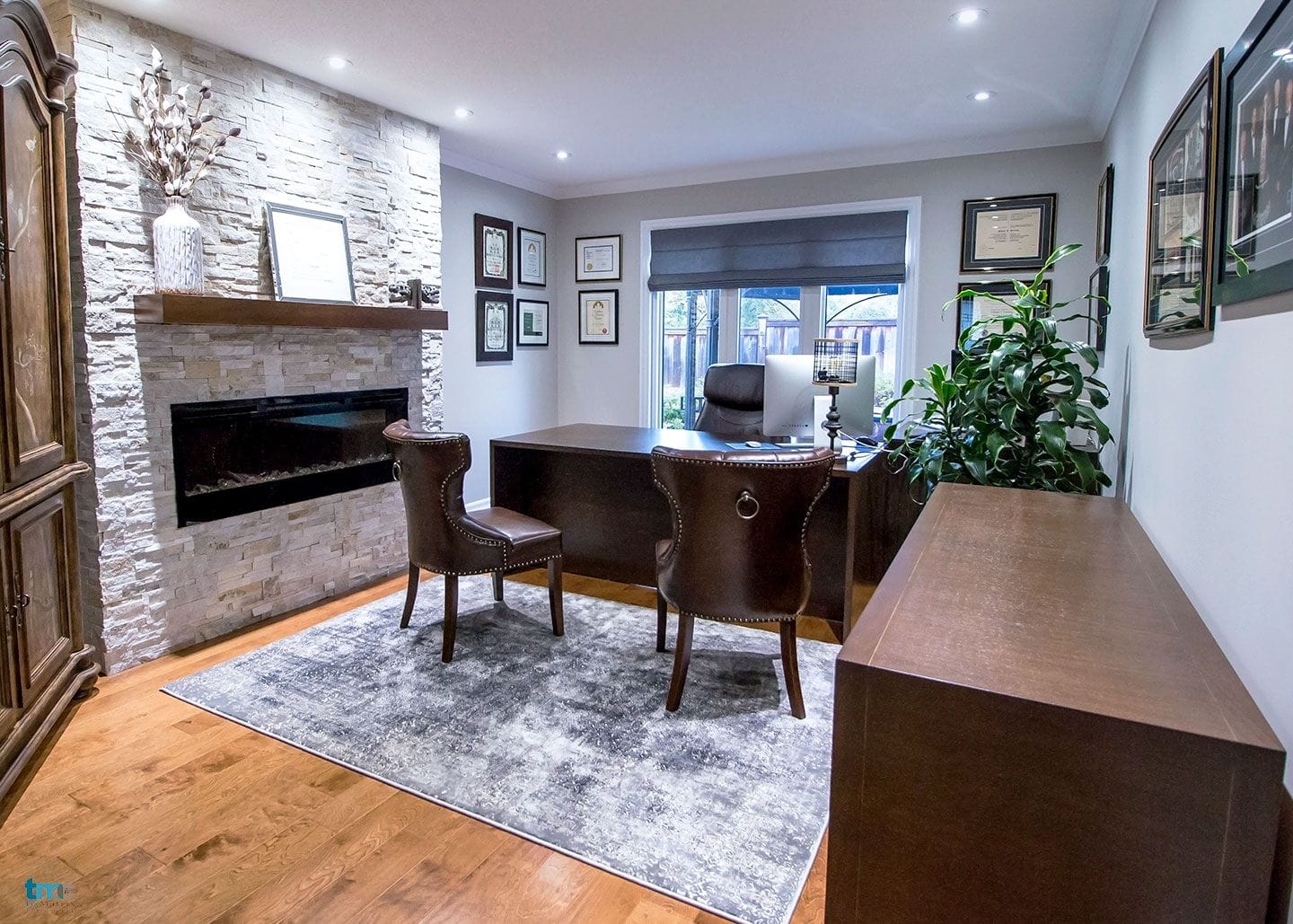 Hardwood flooring usually comes in 3 varieties: strip, plank and parquet.
Pros
Easy maintenance - Hardwood is durable and stands the test of time. It is also easy to clean sweeping, vacuuming and the occasional wood floor cleaner are needed.
Higher return on Investment - Buyers are willing to pay top dollar for homes with hardwood flooring. Also, homes with hardwood flooring tend to sell faster as it is seen as an upgrade.
Various style available - Hardwood flooring works well with all styles of decorating from traditional and modern.
Cons
Cost - Hardwood flooring is a natural material therefore making it a higher cost item; unfinished wood planks can start at $3/sq ft, while finished scraped, distressed and exotic wood can be priced higher than $12/sq ft. In addition, labour is more costly.
Refinishing is needed - Over time floors naturally get scuffed and scratched, and hardwood flooring will need to be refinished to bring back its initial shine, gleam and perfection. This process can be costly and inconvenient.
Price Range: $3 to $12+/sq ft
Vinyl
Vinyl was invented in the 1930s there are 2 types of vinyl: sheet flooring and tile flooring.
Pros
Low maintenance - Easy to care for - You only need to sweep and mop away dirt and stains.
Water resistant - a well installed vinyl flooring can be impervious to water penetration making it perfect for kitchens and bathrooms.
Comfortable - Does not get cold in the winter and is softer on your feet than tile or wood flooring.
Budget friendly
Durability - vinyl is a highly durable material - lasting upward of 20 years.
Stain resistant - Printed vinyl tiles and sheets have a clear layer that acts as a surface barrier, protecting it from stains and spills.
Easy to install
Cons
Volatile Organic Chemicals (VOCs) - chemicals used to create vinyl flooring can cause a toxic out-gassing when the floor is installed, which can lead to respiratory problems, eye irritation, and asthma reactions.
Ecological Waste Problems - not biodegradable and does not break down naturally into the environment in short time; there are rarely recycled and end up in a landfill.
Chemical stains - generally resistant to stains but susceptible to discolouration when in contact with rubber.
Difficult to repair - Vinyl flooring cannot be refinished , it must be removed or replaced.
Susceptible to yellowing - Low quality vinyl flooring will yellow with age.
Price Range: $3 to $5
Tile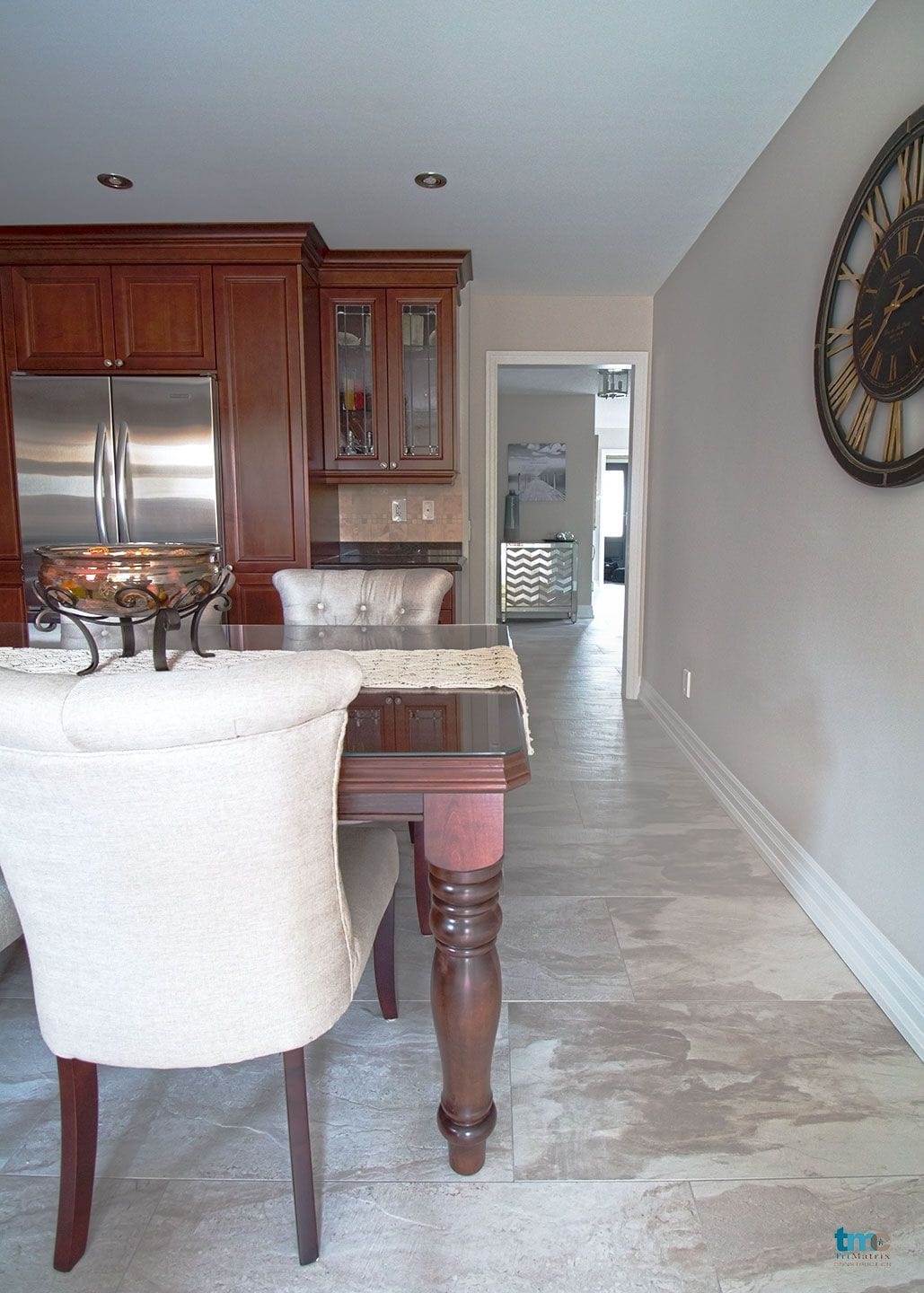 Be it natural or synthetic material, tile is a great choice for kitchens and bathrooms.
Pros
Ceramic Water Resistance - glazed ceramic tile have a protective layer that rests over the material making it impervious to water and stain penetration.
Durability - Tile is normally tough and difficult to crack and usually lasts 20 years and longer if well maintained.
Easy Maintenance - Dirt, spills and stains all rest on the surface of a glazed tile allowing you to simply wipe, sweep or mop it away.
Tile design options - Modern manufacturing allows producers to print material in numerous ways allowing for more diversity.
No allergens - Hard and solid surfaces do not attract dirt, dust, pollen, or other allergens, keeping your home cleaner.
Cons
Hard Flooring - Tile is extremely hard which can be uncomfortable for standing on for long periods of time.
Cold - Tile does not hold heat well, leaving the tile flooring colder in the winters which can be uncomfortable for the homeowners.
Difficult Installation - Tiles are hard, heavy and require more tools and technique to install, prolonging your installation process and sometimes elevating the cost.
Costly - Although ceramic tiling and other synthetic tiles are affordable, natural stone tiles can be expensive, since it is a luxury.
Price Range: $3 to $15+/sq ft
Carpet
Wall to wall carpet flooring is used to add comfort to the home, and create a cozy and warm environment.
Pros
Warmth in the Winter - Soft carpet flooring offers the best heat insulation for the winter months.
Hides flaws - Flaws on your floors can be easily hidden by carpet flooring.
Soft - Carpet flooring are soft and comfortable to walk or stand on for a long duration of time.
Sound - Carpet flooring cuts noise by providing sound insulation.
Affordability - In comparison to wood or tile flooring, carpet flooring is less expensive and allows you to stay within your budget more easily.
Cons
Allergens - Carpet flooring is the perfect breeding ground for dust mites and other allergens, as well as, moisture.
Stain & Odor - Spills on carpet flooring cannot be ignored. Stains and odors would be retained on the carpet creating an unpleasant odor in the room.
High maintenance - Professional carpet cleaning, which is recommended, can be costly especially in a household with children or pets. This maintenance may not be worth what you save in installation.
Price Range: $3 to $5/sq ft

Author:
TriMatrix Construction
About: With over 30 years experience in the Construction Industry, we are builders who understand every aspect of the construction process. From planning and design, to delivering the fulfillment of your dream home, we are with you every step of the way.
Connect via:
Twitter
LinkedIn
Post comment