Dive Into These Cool Pool House and Cabana Designs for Your Dream Backyard
Posted by TriMatrix Construction on 12 July 2019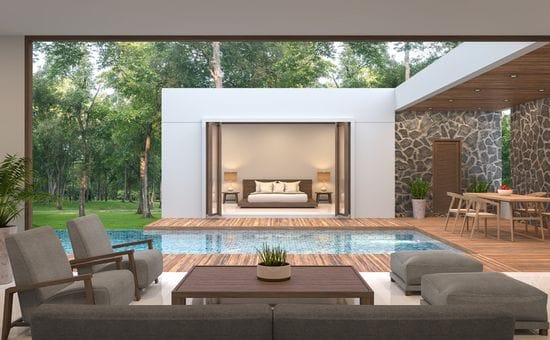 Are you in full summer fervour? So are we! Canadian summer weather has us spending every spare moment outside working on our yards and relaxing among the fruits of our labour. Inevitably, we start imagining what our dream backyard would look like and start scouring the internet and magazines for backyard ideas.
Since Canadian summers in Vaughan and the GTA are so pleasant, we're sharing some of our favourite pool house designs and cabana designs for your backyard to daydream about.
What's the difference between a pool house and a cabana?
First, let's clarify the difference between these two structures. Though they may be used interchangeably, they're quite different in structure. A cabana is not a pool house; it's a roofed structure used for shelter poolside and is usually comprised of three sides. A pool house is just what the name implies a house which can include amenities like bathrooms, kitchens, spare bedrooms, and require full utilities.
Both cabana designs and pool house designs require permits from your city to build, so it is imperative you work with a turn-key construction company that provides design and build from start to finish.
Functional Pool Cabana Designs
Your new cabana design can include almost all the amenities you may want for your outdoor space and double as a small outdoor addition to your home. Some of the most common basic functions your backyard cabana may serve include a change room, bar, or kitchen, but the buck doesn't stop there. Cabanas are great for outdoor entertaining when paired with a pavilion, and make wonderful outdoor dens with fireplaces.
Check out these drool-worthy cabana designs you could be lounging in:
A Shady Outdoor Retreat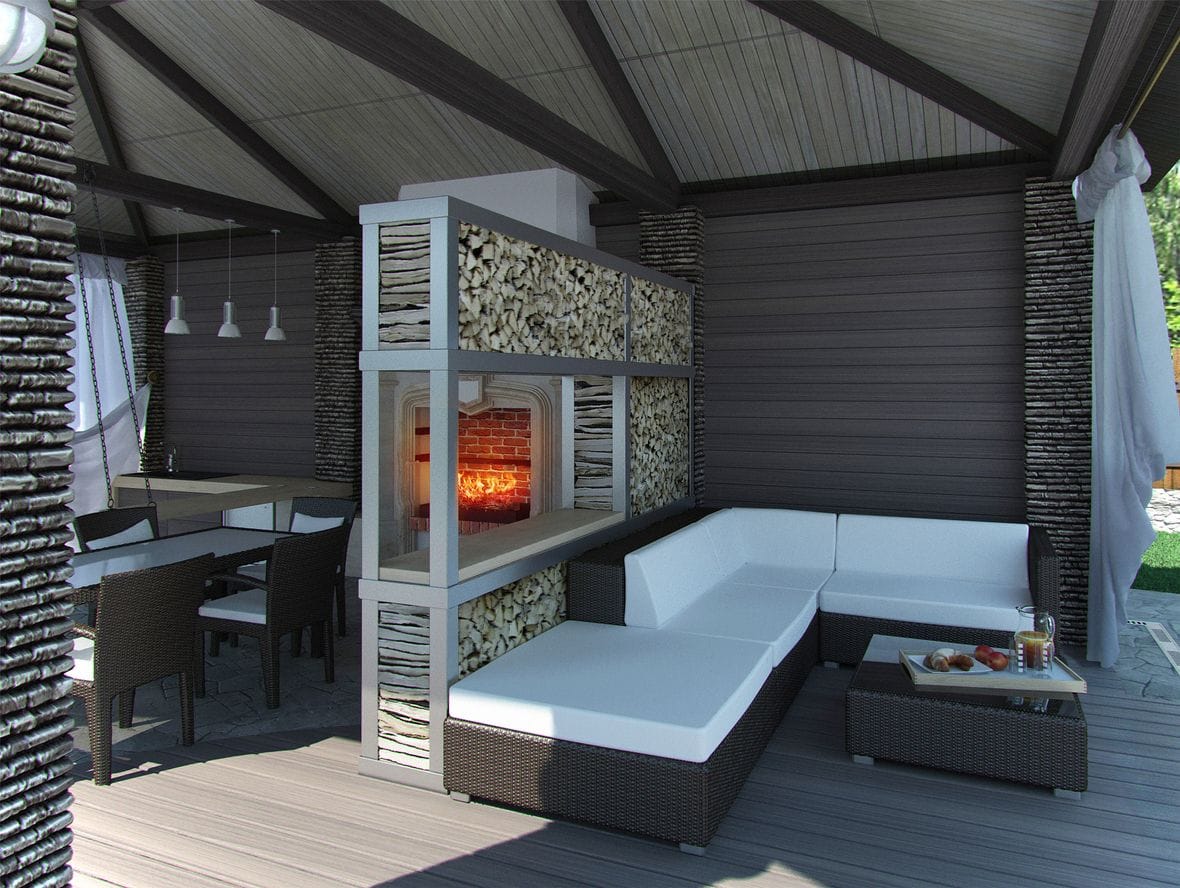 Create an open concept cabana design with ample outdoor space to lounge and entertain in while taking a break from the sun. This design features a fireplace to allow hosting from day to night.
An Outdoor Kitchen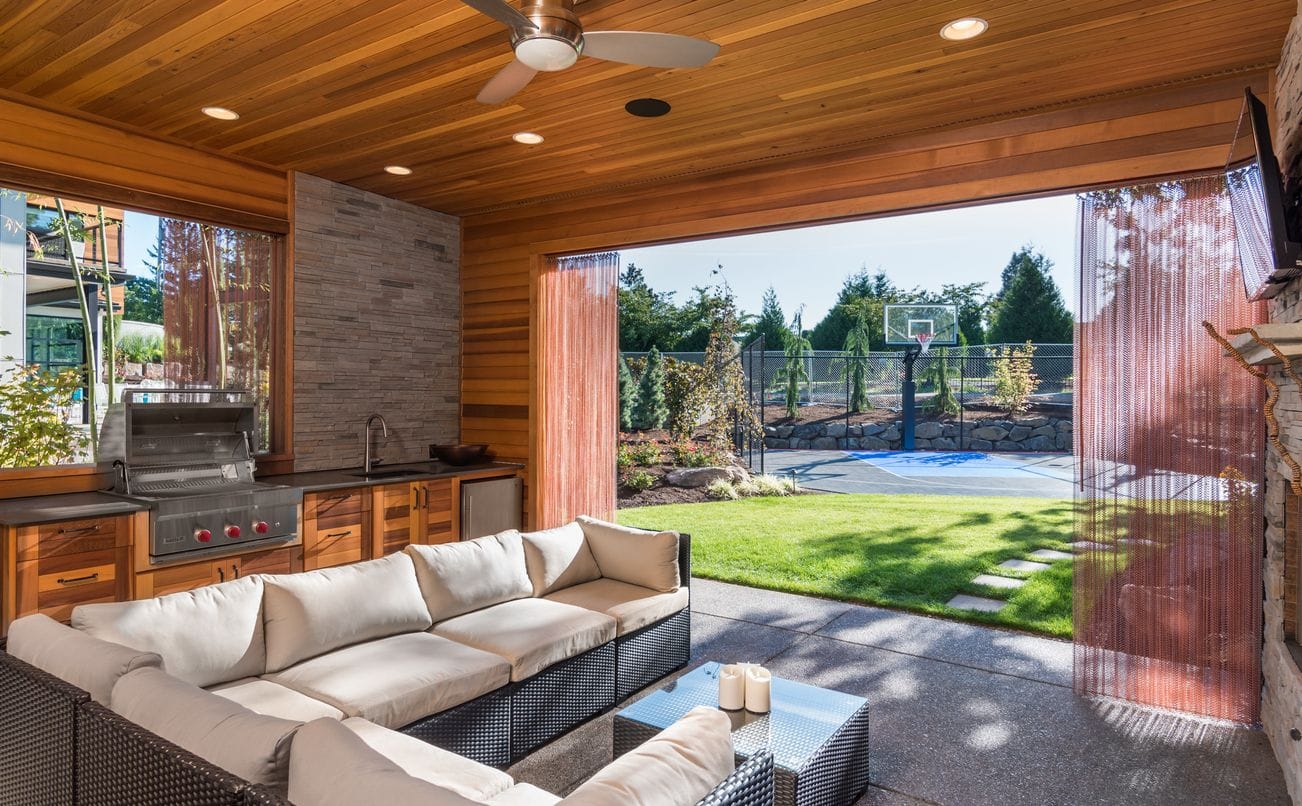 Entertain outdoors without missing a moment with an outdoor kitchen in your backyard cabana.
A Cabana with a Bar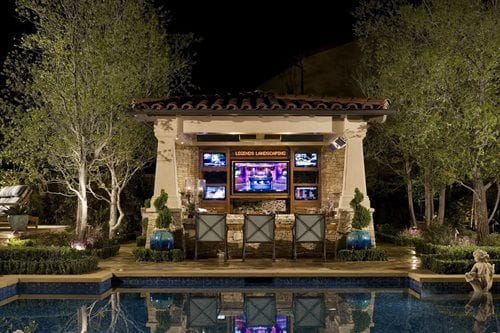 Image courtesy Landscaping Network.
If you're the local bartender and are lucky enough to have a pool, consider a cabana design that includes a bar. Bonus feature you can have a TV (or 4) installed to turn your backyard into the ultimate sports bar.
Expand Your Outdoor Living Space with These Amazing Pool House Designs
With a pool house, your imagination can run free. This type of structure is essentially a small house, so you can design your pool house with any feature in mind a secret garden, guest suites, a hot tub, a full kitchen, the list is endless.
Take a look at these cool pool house designs:
Outdoor Living Space Expansion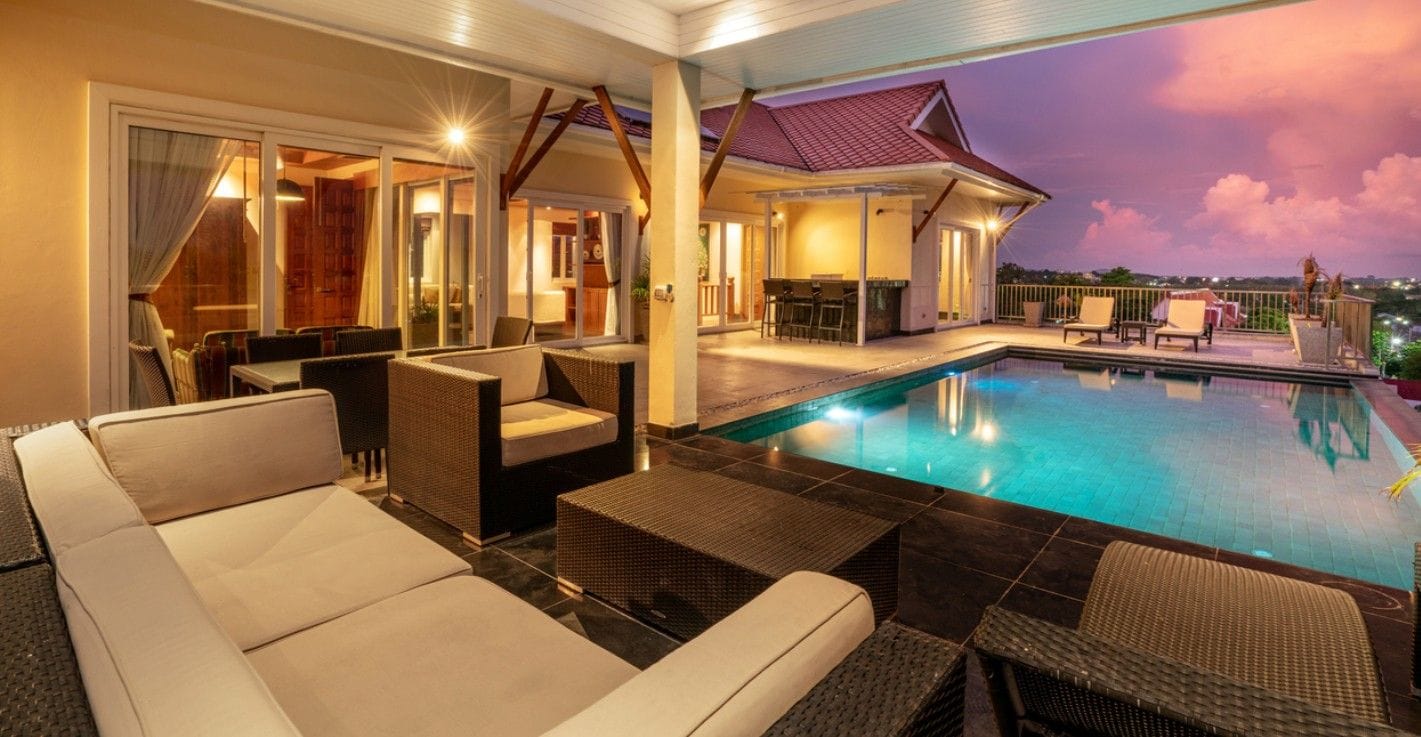 Get more out of your outdoor space with additional veranda and covered patio space in your pool house design. Use the indoor space for functional space like a den, guest suite, and kitchen, while the outdoor space acts as a secondary patio.
An Open Design for Maximum Outdoor Space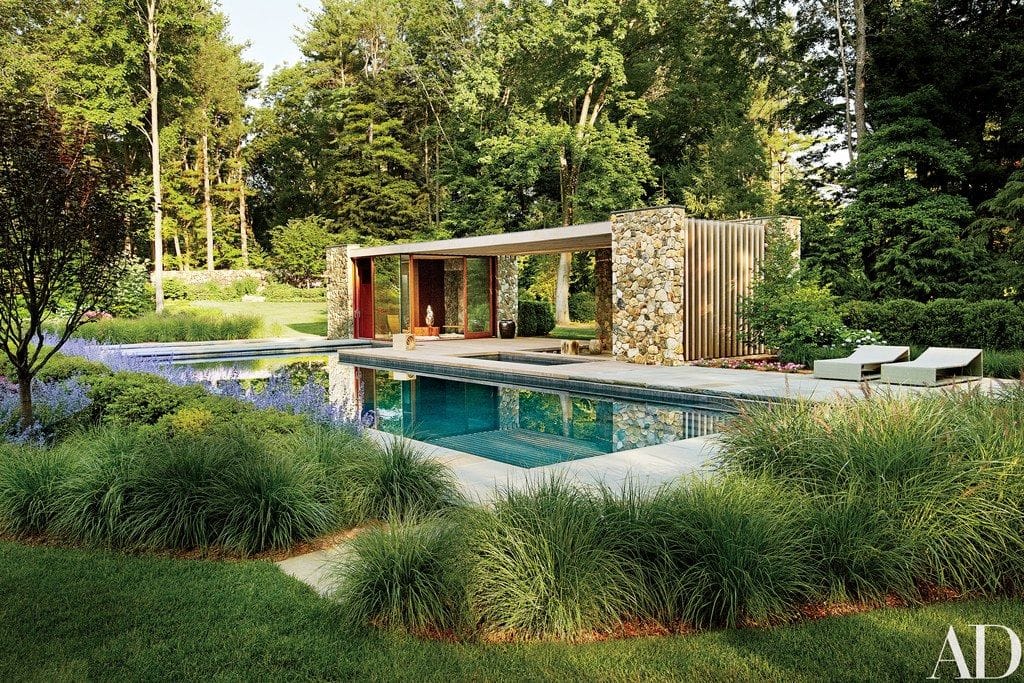 Image courtesy Architectural Digest.
This pool house is designed to maximize outdoor space. With a large pergola covering a fireplace and a cozy, glass house, it connects the pool house design with the outside.
A Pool House that Doubles as a Guest House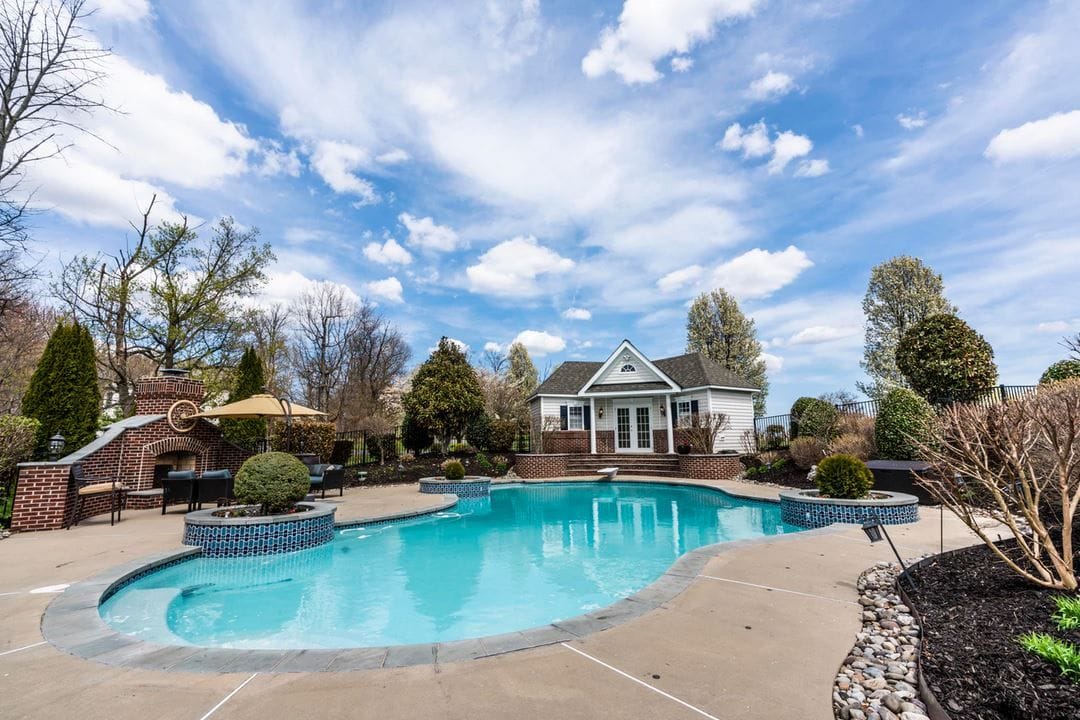 Mimic your home's outdoor structures and exterior design with a guest-house-style pool house. Performing two functions in one, you can enjoy your outdoor time, additional storage, and have private space for your overnight guests.
Outside-the-Box Pool House Designs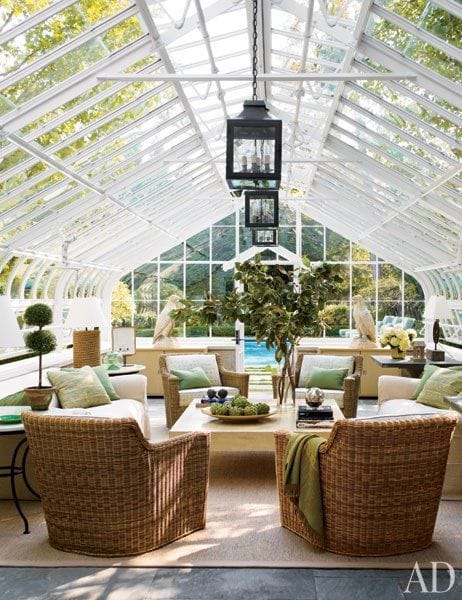 Image courtesy Architectural Digest.
Not all pool house designs have to look like houses. Inspiration can come from many different places. Check out this unique greenhouse turned pool house in Illinois.
---
Are you ready to take the plunge and build your dream pool house or cabana for your backyard? Trust the experts at Trimatrix. With over 30 years of experience, our passion for high quality and design, combined with our full team of experts, can build your backyard oasis from start to finish.
Contact us today to get started!

Author:
TriMatrix Construction
About: With over 30 years experience in the Construction Industry, we are builders who understand every aspect of the construction process. From planning and design, to delivering the fulfillment of your dream home, we are with you every step of the way.
Connect via:
Twitter
LinkedIn
Post comment